Car Detailing Mclean Va - Sharp Detail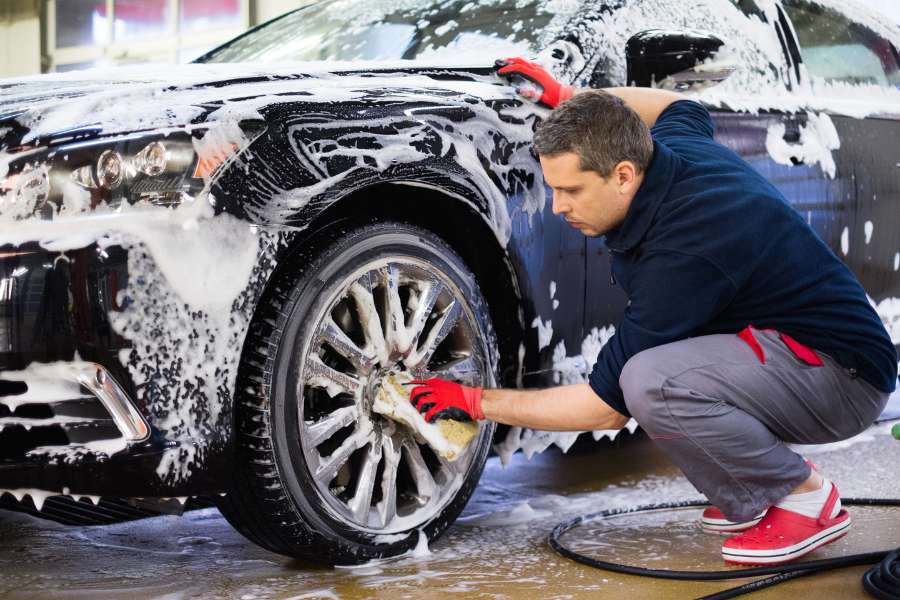 Welcome to Sharp Detail, your premier auto detailing service provider in the heart of McLean VA. We pride ourselves on being the one-stop shop for all your car detailing needs, offering an array of top-quality services to keep your vehicle in pristine condition. We don't just see a vehicle in need of a wash, but rather an extension of our client's identity and an essential part of their daily routine. That's why when we roll up our sleeves and get to work, we treat each car as our own. However, our commitment to excellence extends beyond just the services we offer. We understand that exceptional customer service is just as important as delivering flawless results. That's why we go above and beyond to keep you informed of everything you need to know, every step of the way.
We cater to people with all kinds of needs and interests. So whether you're a car enthusiast, a daily commuter, or a luxury car owner, we have the skills and the experience to provide you with the best auto detailing services in the industry. Our team of professionals is trained to work with all makes and models of cars, ensuring that you get the highest quality of service regardless of the type of vehicle you own. We know all the little tips and tricks to produce the best results; we clean around the seats, we clean underneath them, behind them, and in between them. Most importantly, we are constantly refining our techniques to ensure that we deliver nothing but the very best to our clients.
For more than a decade, our car detailing business has been serving the McLean, Leesburg Va and Reston va area with a steadfast commitment to two core values: quality and convenience. It's this unwavering dedication that's allowed us to stay ahead of the curve and continue to exceed our clients' expectations time and time again. We are constantly pushing the boundaries and searching for new and innovative ways to elevate our services. From investing in cutting-edge equipment to training our team on the latest techniques, we leave no stone unturned in our quest for perfection. So, if you're looking for a reliable, affordable, and professional auto detailing service provider, look no further than Sharp Detail. Contact us today to schedule an appointment, and experience the difference that our services can make for your car.
---
Services
At Sharp Detail, we don't stop at the basics - our three all-inclusive packages are designed to meet all of your car care needs, from the wheels to the roof and everything in between. Whether you're looking for a quick spruce-up or a full-on detailing experience, we've got you covered. So why settle for a run-of-the-mill car wash when you can treat your ride to the ultimate in car care with our services?
Signature

Detail

Interior/Exterior Only:
$230 (sedan) / $255 (larger car)

Premium

Detail

Interior/Exterior Only:
$180 (sedan) / $215 (larger car)
---
Testimonials
Totally worth it! I booked their signature package and they completed every service in the package. and when they were done, my car was once again the beautiful spectacle I've always loved. Keep up the outstanding work!

I really loved the convenience with which they provided the service. They came to my location, took their time with my car, and delivered the best detailing work I have seen in the two years I have been a car owner. I highly recommend them for anyone looking to keep their car in top condition.

I used Sharp Detail for the first time and was pleasantly surprised by their quick response time. It was a same-day appointment which they honored by arriving on time and doing a perfect job. As someone who values my time, I can't think of any other company I'd work with other than them.
---
Recent Works
A customer recently booked our services near Langley High School and as one of our early-morning tasks, we carried everything required and drove there. The client wanted a thorough exterior detail. We used two hours to properly clean and wax the exterior leaving the car sparkling. The client was satisfied with the result and we left the location happy to have delivered a positive experience.

A lunchtime job saw us visit a location near McLean Shopping Center for a wax and shine. The car's paint was dull, with several small scratches and swirls on the surface. We quickly set up our equipment and got to work. We carefully removed all dirt and debris, and the client watched in awe as the paint began to come to life, revealing a deep, rich shine that had been hidden beneath the grime.

A client call led us to Chesterbrook Gardens for a full detail. the client only had two hours to spare so we quickly explained our process to the client and got on with the work. Even in the limited time we had, we were able to make a meaningful difference in someone's day, and that's what makes car detailing such a rewarding profession.