Car Detailing Burke Va - Sharp Detail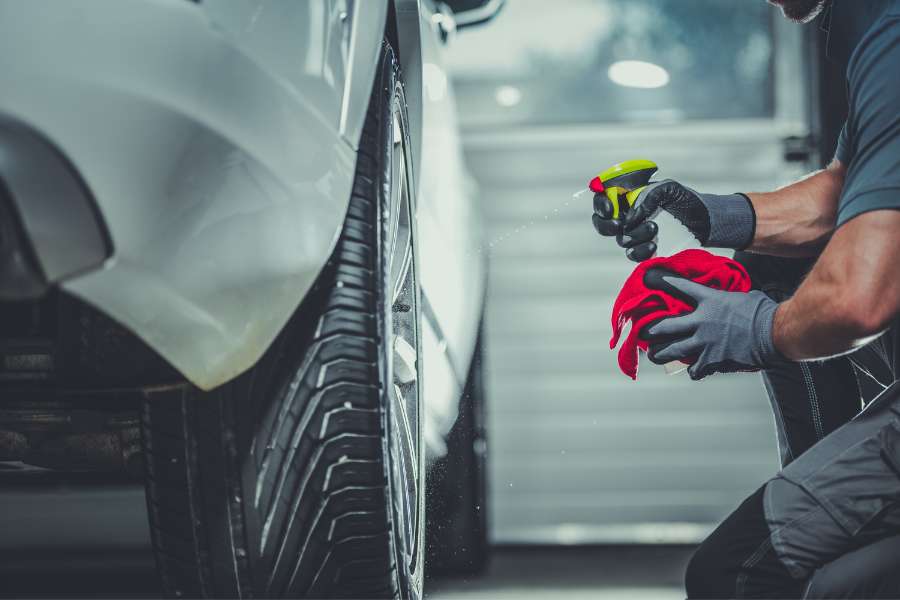 At Sharp Detail, we understand that car detailing is not just about the safety of the driver on the road, but also their mental well-being. Clear headlights, for example, ensure optimal visibility at night, creating a safer driving experience. But what about the impact of a pristine car interior on one's mental health? Studies have shown that a clean environment can help people maintain a clear mind, leading to better decision-making and an overall sense of well-being. So, let us help you not only keep your car in top condition but also promote your own mental wellness.
Our premium services include the highly sought-after clay bar treatment, which expertly smoothes out the surface of your car before it undergoes our polishing process. By doing so, we're able to rid your car of any pesky minor scratches or swirl marks, leaving it with a brilliant, mirror-like shine. We take great care in using the right polishing technique to achieve the best results for your car's specific needs. And don't worry about the long-term upkeep of your car's new look - our waxing process protects your car's surface and preserves its shine for miles to come. With a waxed surface, dirt and debris will slide right off, making cleaning a breeze. So why wait? Call us at Sharp Detail today and experience the ultimate in car care.
In addition, we are committed to providing the best customer service experience in delivering car detailing solutions in Lorton Va and Chantilly Va. We prioritize friendliness and courtesy in all our interactions with clients, ensuring they feel supported and valued throughout the process. Accessibility and convenience are also key pillars of our customer service promise. We simplify and improve access to information and resources, making it easy for clients to interact with us in a way that suits their schedule and preferences. Finally, we value honesty, clarity, and trust. We are dedicated to advancing a culture of transparency and truthfulness in all our interactions with clients, ensuring that they always know what to expect and can trust us to deliver on our promises.
---
Services
At Sharp Detail, we understand the challenges that come with dealing with a dirty car exterior and dog hair, debris, and crumbs in the car's interior. While it can be tempting to handle the work yourself, some benefits can only be provided by experts. These include the experience of knowing which techniques work better, knowledge of the most effective products on the market, and convenience for the services. All of this comes through the following three packages: the Full Detail, Premium Detail, and Signature Detail packages.
Signature

Detail

Interior/Exterior Only:
$230 (sedan) / $255 (larger car)

Premium

Detail

Interior/Exterior Only:
$180 (sedan) / $215 (larger car)
---
Testimonials
I have always used Sharp Detail, and what has impressed me is how they have maintained high standards. They still treat my car with respect and their customer service has remained exceptional for the two years I've known them. I recommended them to my wife and would not hesitate to recommend them to others.

First off, I had a very easy time booking their services and getting any information I wanted. They then connected me to their detailers who did an excellent job of making my car look great. The inside is now clean and comfortable and every time I look at the exterior it's like my car is new again. Thank you for a job well done. I highly recommend.

Quality services at great prices. I chose the premium package and the team at Sharp Detail delivered a detailing masterclass. My glasses are super clear, my car seats are clean and fresh and the exterior is sparkling. I highly recommend them to anyone looking for car detailing services.
---
Recent Works
We recently visited a client in Bent Tree who wanted his car's appearance restored with our exterior detailing. After inspecting the minor scratches and dirt on the car, we prepared our tools and got to work. After about two hours of thorough work, the car's exterior looked spotless and it was satisfying to see the smile on our client's face when he saw the final result of our hard work.

A deep cleaning job for a repeat client saw us visit Cherry a location near Run Elementary School. We arrived prepared and quickly got to work as the client was on a tight schedule. We proceeded with a step-by-step approach, using our quality products and ensured the client understood what we were doing. Once we were done, the client's appreciation for our work was evident, and he thanked us for a job well done.

We recently reported to a location near Kings Park Shopping Center for a car detailing appointment for a client. The client was around for the afternoon and so we wasted no time getting there for the job. We examined the car, and got on with the work. We used all the tips and tricks to return the car to its original spectacular condition and by the end of the afternoon, we were pleased with our work and happy to see another satisfied customer drive away in their freshly detailed car.